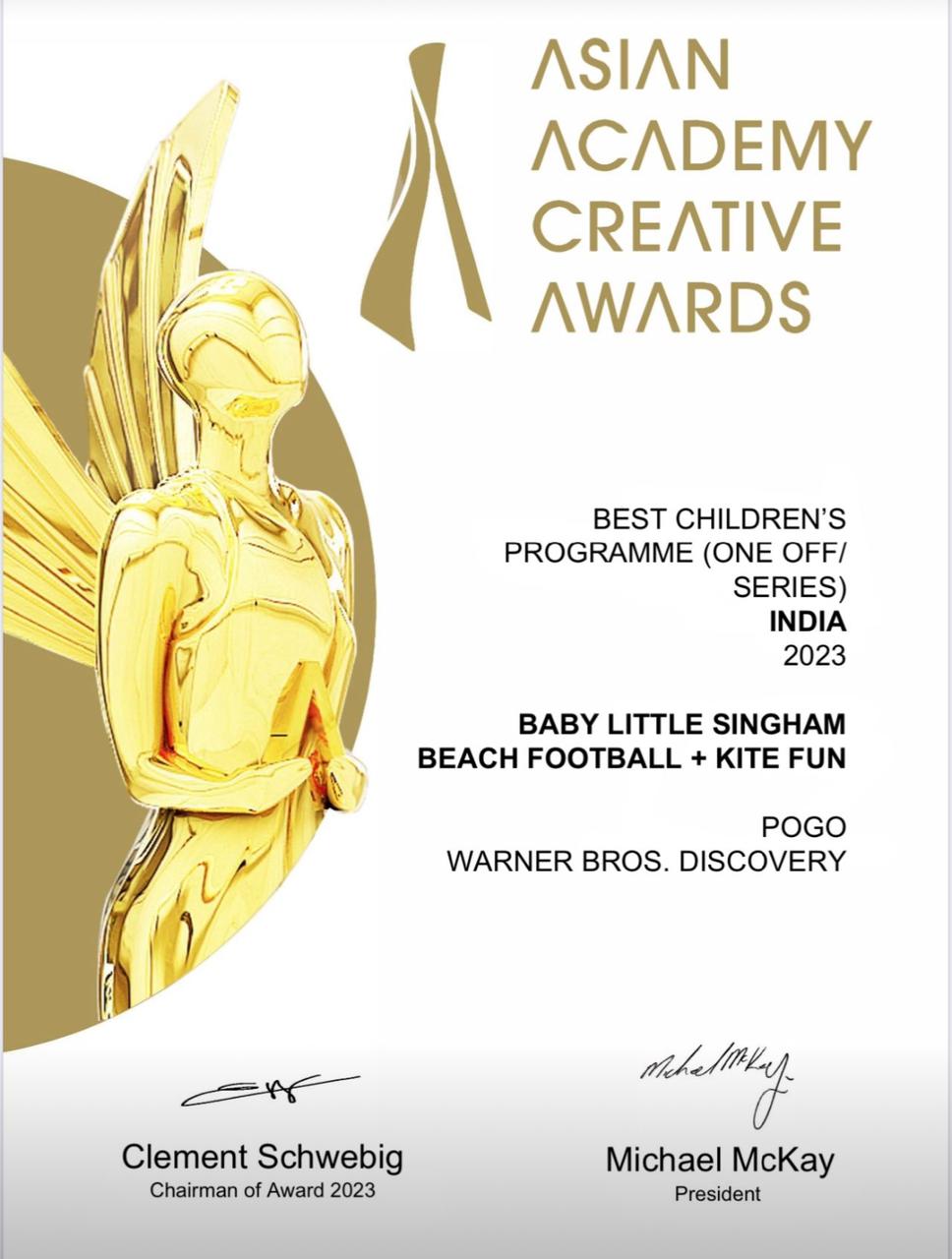 Mumbai, 5 October 2023:  Reliance Entertainment's animation arm, Reliance Animation, a leading player in the Indian animation industry, is proud to announce that its popular show "Baby Little Singham" has been awarded the prestigious title of Best Children's Program at the Asian Academy Creative Awards.
The Asian Academy Creative Awards, known for recognizing outstanding achievements in the field of television and digital content across the Asia-Pacific region, bestowed this remarkable honor upon "Baby Little Singham" during a glittering ceremony. The show's incredible success in the category further solidifies Reliance Animation's commitment to delivering quality content that captivates young audiences and parents alike.
"Baby Little Singham" is a spin-off of the highly acclaimed "Little Singham" franchise, which has already garnered a massive fan base across India. This animated series follows the adventures of a young and fearless police officer named Little Singham, who, despite his diminutive size, fights crime and injustice in the lively town of Mirchi Nagar. The show not only entertains but also educates children about the importance of courage, honesty, and teamwork.
The show's success can be attributed to its engaging storytelling, vibrant animation, and strong moral values woven into each episode, making it a favorite among both parents and children. It has also gained immense popularity across various digital platforms, contributing to its widespread success.
Tejonidhi Bhandare CEO of Reliance Animation, expressed his delight at receiving this esteemed award, saying, "We are truly honored to receive the Best Children's Program award from the Asian Academy Creative Awards. 'Baby Little Singham' is a labor of love for our talented team of animators, writers, and creators who have worked tirelessly to make it a success. This recognition reaffirms our commitment to producing world-class animated content that entertains and enriches the lives of children."
Reliance Animation continues to push the boundaries of animation and content creation in India, and "Baby Little Singham" is a testament to their commitment to delivering quality entertainment in addition to the "Little Singham" show, which has been in the news a lot lately, especially since it was rated as the No. 1 show in the Kids category by the BARC Ratings. To add to the list of accomplishments, Reliance Animation's smashing Simmba has received the ANN Awards 2023 in the category "Best Bollywood Inspired Animated IP."
About Reliance Animation
Reliance Animation Pvt. Ltd. is a renowned animation studio that sparks the imagination with its exceptional creative endeavors. With a strong foothold in the industry, Reliance Animation has garnered recognition for its groundbreaking animated films, TV series, and interactive content. Their diverse portfolio showcases a wide range of captivating storytelling, imaginative characters, and cutting-edge visual effects. With a talented team of artists, animators, and technicians, Reliance Animation continues to push the boundaries of animation, delivering high-quality and engaging experiences. Committed to innovation and excellence, Reliance Animation Pvt. Ltd. inspires audiences of all ages by creating magical worlds where dreams come to life.
Reliance Animation Studios Pvt. Ltd. commenced operations in the animation sector in 2005 and today is a leading animation studio from India. The animation studio is well known for delivering IP driven animation content across multiple Indian languages. The Animation studio has Flash 2D, Harmony 2D & Maya 3D pipeline with proven production facilities, having delivered 18,000+ minutes of animated content to date. With the latest & licensed technology in Animation and visual effects, the animation studio engages over 1,000 creators working across multiple locations in India.
FACEBOOK: @relianceanimationofficial
TWITTER: @RelianceAni
INSTAGRAM: @relianceanimation
About Reliance Entertainment
Reliance Entertainment is one of India's largest content studios, having produced and distributed more than 400 films that have grossed over $1 billion at the global box office. As a vertically integrated media company focused on India, the fifth largest media and entertainment market globally according to FICCI & EY, Reliance has proprietary new media assets across animation and gaming, which monetize the Company's proprietary film IP library across new media platforms. Reliance invests in film production companies and intellectual property, maintaining a rich content portfolio across multiple Indian languages and relationships for digital distribution with Netflix, Amazon, Disney+Hotstar and other platforms. Reliance films have won 29 national awards since 2008, and the Company works with some of the most prominent directors and stars in India.
https://www.relianceentertainment.com/
FACEBOOK: @RelianceEntertainment        
TWITTER: @RelianceEnt            
INSTAGRAM: @reliance.entertainment
Contact: fatema.nagree@restudios.co.in +919326606275