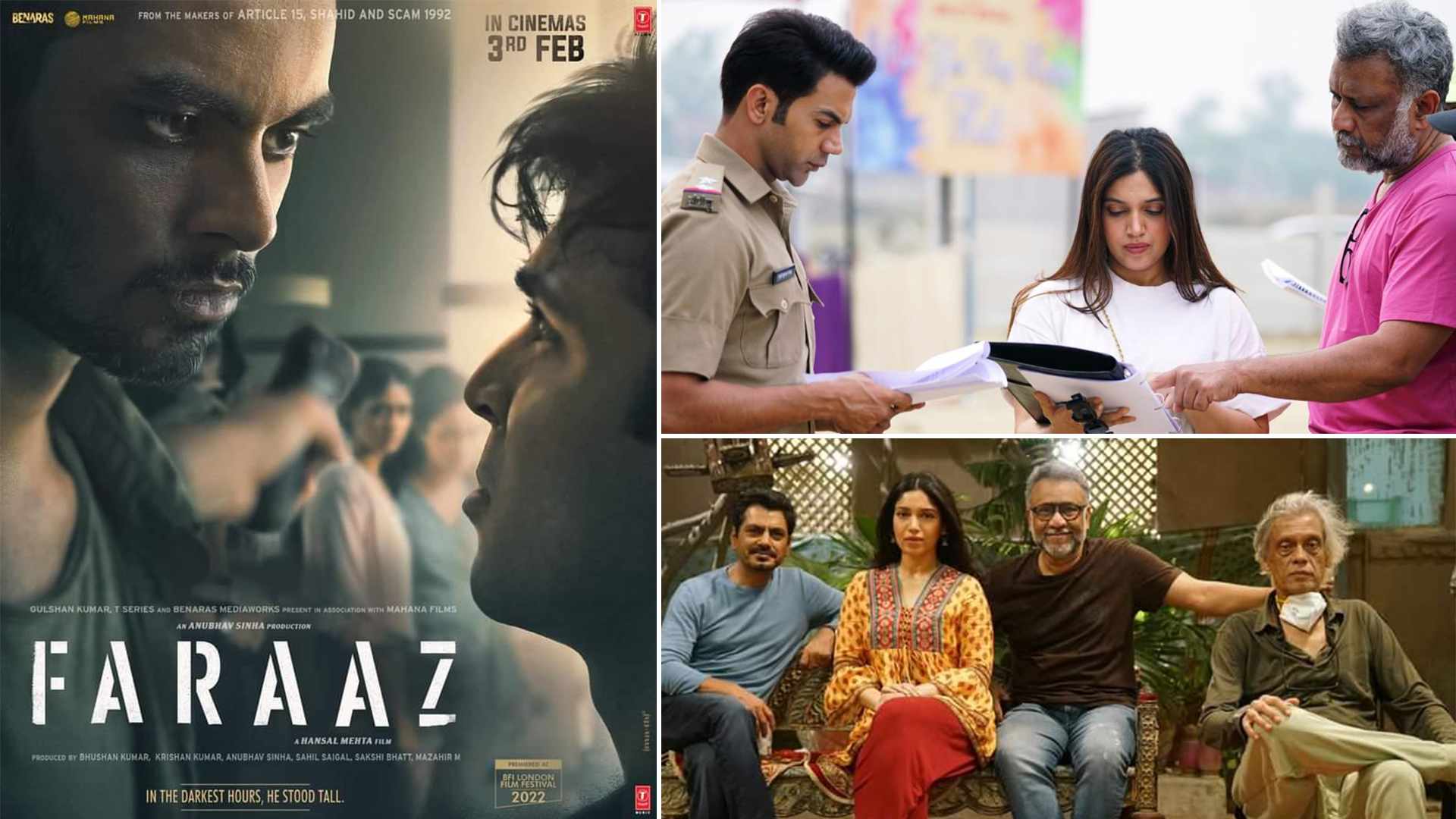 Mumbai, Feb 02, 2023: Reliance Entertainment, join hands with T-Series & Anubhav Sinha's Benaras Mediaworks to distribute Sudhir Mishra's Afwaah, Anubhav Sinha's Bheed & Hansal Mehta's Faraaz in the overseas market.
The first film to be released as part of this association is Faraaz, directed by Hansal Mehta, starring Zahan Kapoor, Aditya Rawal, Juhi Babbar Soni, releasing on 3rd February. Based on the real-life terrorist attack that ravaged a Dhaka Cafe, Faraaz is a tense hostage drama that unfolds over one claustrophobic night.
Followed by Sudhir Mishra's directorial Afwaah, starring Nawazuddin Siddiqui, Bhumi Pednekar, Sumeet Vyas & Sharib Hashmi releasing soon.
And Anubhav Sinha's Bheed starring Rajkummar Rao, Pankaj Kapur, Bhumi Pednekar, Ashutosh Rana & Dia Mirza releasing on 24th March 2023. Bheed is a story that sheds light on the social disparity that the country faced in the toughest of times.
Commenting on this association, Anubhav Sinha, Founder & Managing Director, Benaras Mediaworks said, "We are delighted to join hands with Reliance Entertainment for the overseas release of our films. This gives us an opportunity to ensure that the messaging within all our films reaches out to a larger & more diverse audience."
Over the years, makers of ten films, amongst them are the box office hits and critically acclaimed MULK (2018), ARTICLE 15 (2019) & THAPPAD (2020) and a scrumptious line up of films is in the oven for the near future. With brave decisions and hard-hitting stories, such as those on religious biases, caste discrimination and domestic violence, Benaras Mediaworks has become one of the most exciting production houses in the country.
Adding to this Bhushan Kumar, Chairman & Managing Director, T-Series commented, " I am happy to have initiated this association with Reliance Entertainment . It makes me even happier that as a team, T-Series is taking rapid strides at making Indian entertainment available to the global audience. There's more to come, and I hope we continue to strive and achieve even greater heights in the coming years."
On the collaboration Dhruv Sinha, Head Overseas Businesses, Reliance Entertainment, said, "We are extremely pleased to associate with T-Series & Benaras Mediaworks to explore this opportunity. We will be using specific focused release strategies that is content specific which films produced by Benaras demands. With a changing audience taste this is the need of the hour and we recognize it. Additionally this collaboration will not only give us an opportunity to strengthen our existing partnerships with T Series and Benaras, but will also extend to other independent filmmakers & production houses in exploiting their films to their fullest distribution potential"
About Reliance Entertainment 
www.relianceentertainment.com
Reliance Entertainment is the media and entertainment arm of Reliance Group and is engaged in the creation and distribution of content across film, television, digital and gaming platforms. Internationally, Reliance Entertainment has partnered since 2009 with iconic film producer and director, Steven Spielberg, in the formation of DreamWorks Studios, and thereafter, Amblin Partners. This relationship has produced several successful films such as The Help, War Horse, Lincoln, The Hundred Foot Journey, The Girl on the Train, A Dog's Purpose, Bridge of Spies, The Post and this year's Best Picture at the Oscars-Green Book.
Follow us on:  
Facebook: /RelianceEnt
Twitter: @RelianceEnt 
Instagram: /reliance.entertainment