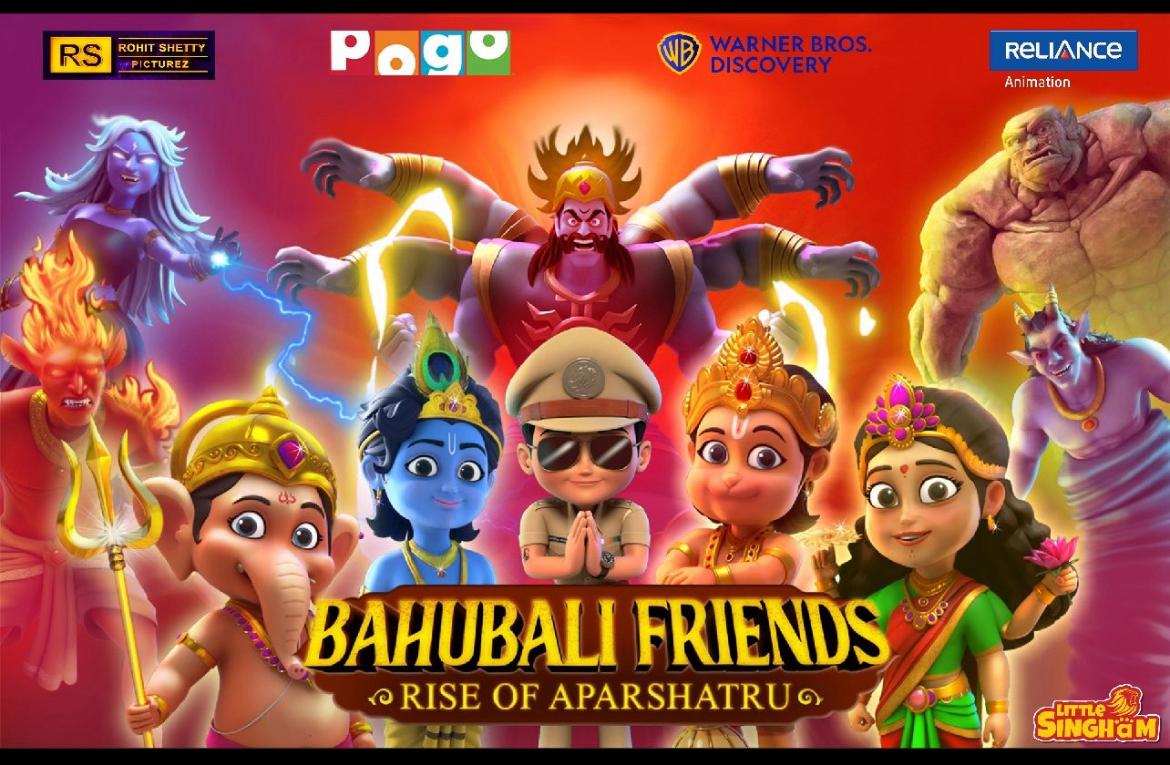 Reliance Animation & Rohit Shetty Picturez's Little Singham launched in collaboration with Warner Bros. Discovery, screens at IFFI today.
MUMBAI, 28 November, 2023 – Little Singham 3D Tele-Film "Bahubali Friends – Rise Of Aparshatru", a collaboration between Reliance Animation, Rohit Shetty Picturez, and Warner Bros. Discovery, to screen at the International Film Festival of India (IFFI), Goa on 28th November 2023, at 11:45 a.m.
Being showcased at IFFI is truly a privilege for the makers, marking a momentous occasion for the film. This platform not only bestows honor but also serves as a remarkable opportunity for "Little Singham Bahubali Friends – Rise of Aparshatru" to captivate a diverse audience, both on a national and international scale.
Tejonidhi Bhandare, CEO of Reliance Animation, expressed his delight and honor at this achievement, stating, "We feel delighted and honoured that our film "Little Singham Bahubali Friends – Rise of Aparshatru" has been selected for the screening at prestigious 54th International Film Festival of India. Our joint efforts with Warner Bros. Discovery have paved way for home grown IP on the international platform. The passion, the drive to serve our young audiences is what inspired all of us to work out innovative strategies to ensure that we were able to deliver quality program at such a scale."
"Little Singham Bahubali Friends – Rise of Aparshatru" is all about how Mirchi Nagar faces elemental demon attacks, prompting the Bahubali Friends to unite. Little Singham rescues Mooshak Raj, but a greater threat, Aparshatru, is unveiled. Empowered by the Pralay Astra, he defeated Asurs but succumbed to its corruption. The Bahubali Friends hid the weapon, using elemental possessions as keys Mooshak Raj guides them to its location. In a final showdown, Little Singham and friends outsmart Aparshatru, returning and destroying the dangerous Pralay Astra.
About Reliance Animation
Reliance Animation Pvt. Ltd. is a renowned animation studio that sparks the imagination with its exceptional creative endeavors. With a strong foothold in the industry, Reliance Animation has garnered recognition for its groundbreaking animated films, TV series, and interactive content. Their diverse portfolio showcases a wide range of captivating storytelling, imaginative characters, and cutting-edge visual effects. With a talented team of artists, animators, and technicians, Reliance Animation continues to push the boundaries of animation, delivering high-quality and engaging experiences. Committed to innovation and excellence, Reliance Animation Pvt. Ltd. inspires audiences of all ages by creating magical
worlds where dreams come to life.
Reliance Animation Studios Pvt. Ltd. commenced operations in the animation sector in 2005 and today is a leading animation studio from India. The animation studio is well known for delivering IP driven animation content across multiple Indian languages. The Animation studio has Flash 2D, Harmony 2D & Maya 3D pipeline with proven production facilities, having delivered 18,000+ minutes of animated content to date. With the latest & licensed technology in Animation and visual effects, the animation studio engages over 1,000 creators working across multiple locations in India.
FACEBOOK: @relianceanimationofficial
TWITTER: @RelianceAni
INSTAGRAM: @relianceanimationAbout Reliance Entertainment
About Reliance Entertainment
Reliance Entertainment is one of India's largest content studios, having produced and distributed more than 400 films that have grossed over $1 billion at the global box office. As a vertically integrated media company focused on India, the fifth largest media and entertainment market globally according to FICCI & EY, Reliance has proprietary new media assets across animation and gaming, which monetize the\ Company's proprietary film IP library across new media platforms. Reliance invests in film production companies and intellectual property, maintaining a rich content portfolio across multiple Indian languages and relationships for digital distribution with Netflix, Amazon, Disney+Hotstar and other platforms. Reliance films have won 29 national awards since 2008, and the Company works with some of the most prominent directors and stars in India.
https://www.relianceentertainment.com/
FACEBOOK: @RelianceEntertainment
TWITTER: @RelianceEnt
INSTAGRAM: @reliance.entertainment
Contact: fatema.nagree@restudios.co.in +919326606275