Inspired by 83, a Kabir Khan film, merchandise brand '83 Believe' is now valued at more than INR 200 million, the widest consumer product range launched by any film-based property in India.
Mumbai, 17 March 2021: Reliance Entertainment and Phantom Films had teamed up with Tennis Legend Mahesh Bhupathi's Swag Fashions Hub Pvt. Ltd., a pioneer in Licensing & Merchandising business, a year ago, to create a unique fashion and lifestyle brand inspired by Kabir Khan's 83. The brand '83 Believe' offers cricket-themed merchandise inspired by the Indian Team's victory in the 1983 Cricket  World Cup.
The merchandise has already recorded unprecedented successful sales even before the release of the film 83, which is slated to hit the screens on June 4, 2021, worldwide.
Pleased with the 83 Believe's success, Kabir Khan, says, "India's glorious 1983 Cricket World Cup story is undying, holding a special sentiment in every Indian's heart. The response from the fans has been phenomenal. The brand stands for Cricket and celebrates its glorious heritage. It's heartening to see 83 Believe connect with fans everywhere in the country."
Mahesh Bhupathi shares, "Globally, there are several brands that celebrate the love for a certain sport and engage consumers who are passionate about those sports by offering them Lifestyle products that help them express themselves through merchandise. However, in our country, where we have a billion cricket-crazy fans, there is a void for a brand that celebrates cricket. Hence, our broad idea is to build the Brand '83 Believe' by launching
Shibasish Sarkar, Group CEO, Reliance Entertainment says, "Reliance Entertainment is focussing on strengthening its L&M business and building formidable franchises for films, beginning with 83. We already have a robust head-start with '83 Believe' merchandise and consumers have been very receptive to the product lines. We continue to build the brand further by adding refreshed line-of-products with our licensees across fashion, home, stationery, mobile accessories and more."
The Licensing & Merchandising program for '83 Believe', a brand that brings cricketing merchandise to fans, offers a wide range of products such as apparel, clothing accessories, home furnishings, pillows, crockery, furniture, travel bags, backpacks, drink ware, wall-decor, clocks, face masks, mobile accessories, writing instruments, office stationery, gifting products, leather accessories, financial products, etc.
With '83 Believe', Indian cricket buffs, who wear their hearts on their sleeve, will get a chance to express a gamut of emotions like joy, pride, nostalgia and more. When you marry cricket with India's other religion, Bollywood, you certainly have a winner in your hands!
About Brand 83:
The Brand 83 ROOTS THE CRICKETING EMOTIONS OF INDIA & signifies India's World Cup glory that transformed Cricket from a SPORT into a RELIGION. It is an expression of India's Cricketing Passion. The Brand resonates confidence and reflects following values i.e. Team Spirit, Triumph, Euphoria, Self-Belief & Determination.
The Brand 83 has two aesthetic tones: One that reflects heritage with subtle expression & the other is contemporary & sports-lifestyle, which is colourful & appeals to the youth.
The Brand 83 currently offers a wide range of consumer products through its official licensees across multiple categories such as Fashion, Socks, Home Furnishings, Drinkware, Bean Bags, Home Decor, Wall Clocks, Backpacks, Office Stationery – Writing Instruments, Notebooks & Organisers, Gifting Accessories, Mobile Covers & Accessories, Co-branded Debit & Credit Cards, Face-Masks etc.
83 is the biggest Franchise from an Indian Studio in terms of Licensing & Merchandising scale, to be launched with such a diverse product portfolio.
About Swag Fashions Hub Pvt. Ltd:
Swag Fashions Hub Private Limited ("SFHPL") is a company with a mandate to co-own and build varied consumer businesses based on Iconic Celebrities & Media Brands.
It's a Mahesh Bhupathi Venture into the Brand Licensing space, who has previously pioneered the celebrity endorsement business with his company – Globosport.
SFHPL is currently the single largest unified Brand Licensing & Merchandising platform in the country with a wide portfolio of Celebrity & Content-Led brands.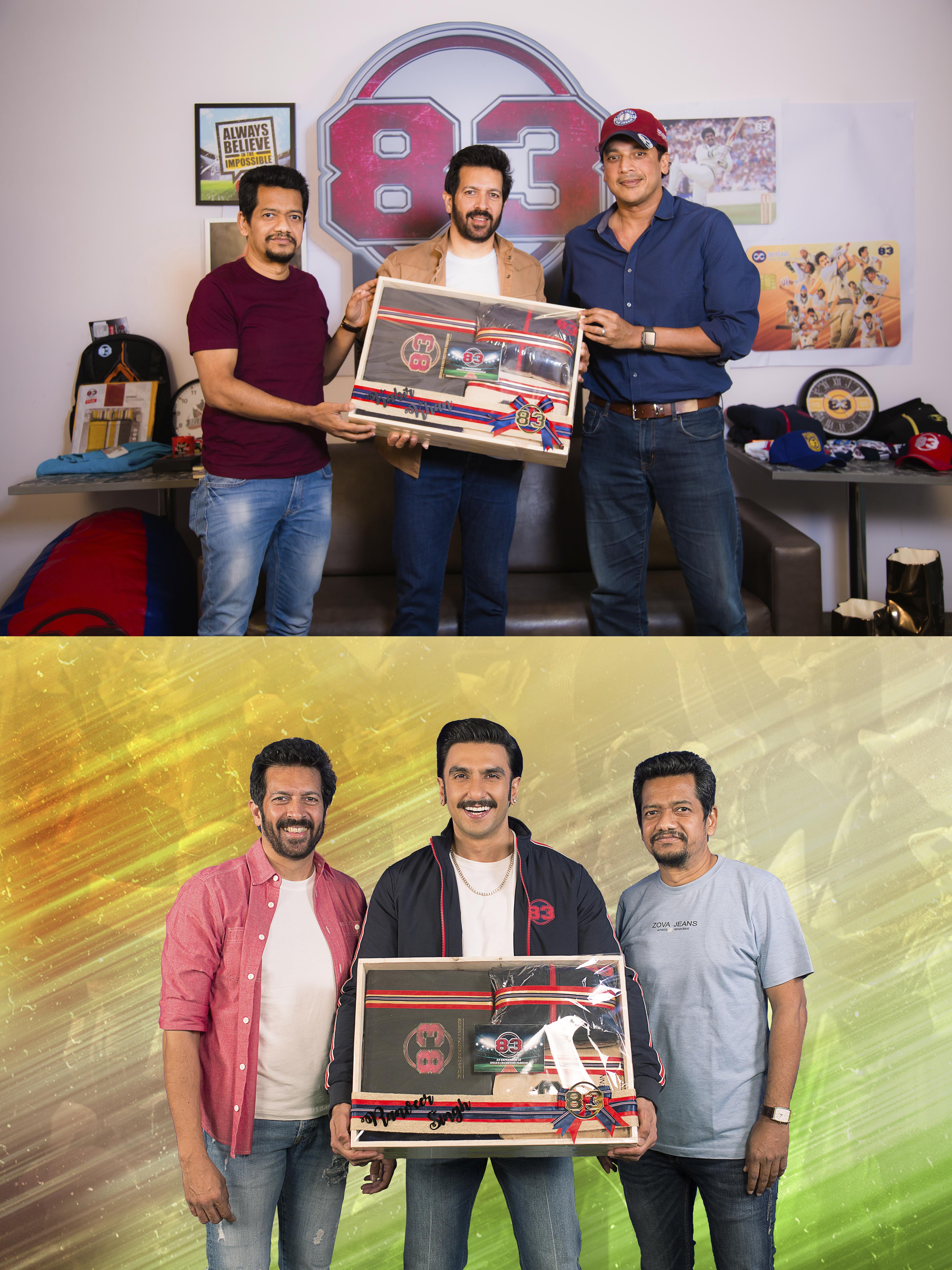 About Reliance Entertainment:
www.relianceentertainment.com
Reliance Entertainment is the media and entertainment arm of Reliance Group and is engaged in the  creation and distribution of content across film, television, digital and gaming platforms.
Internationally, Reliance Entertainment has partnered since 2009 with iconic film producer and director, Steven Spielberg, in the formation of DreamWorks Studios, and thereafter, Amblin Partners. This relationship has produced several successful films such as The Help, War Horse, Lincoln, The Hundred Foot Journey, The Girl on the Train, A Dog's Purpose, Bridge of Spies, The Post, 2019 Golden Globes and Oscar winning film, Green Book & 2020 Academy Award nominee and Golden Globes winner 1917.
Follow us on:
https://www.facebook.com/RelianceEnt/
https://twitter.com/RelianceEnt
https://www.instagram.com/reliance.entertainment/
For Further Details Contact:
Fatema Nagree  | +919867661126  | Fatema.Nagree@relianceada.com