The brand new original animation show "Bhaiyyaji Balwan" is set for launch soon on Disney Kids Network
Mumbai, 05 August 2021: Reliance Animation teams up with Disney Kids Network to bring its home-grown IP "Bhaiyyaji Balwan" for the local audience with a desi look and feel.  With the growing popularity of local animation content, Reliance Animation has been creating distinctive and differentiated international and home-grown stories based on the evolving kids' entertainment ecosystem. Reliance Animation, a leading animation studio has been delivering IP-driven content across multiple Indian languages.
"Bhaiyyaji Balwan" Set against the backdrop of Gomtipur which is home to a charming young street smart Bhaiyyaji loved by the villagers for his shrewd simple problem-solving abilities. He rolls through the fun and frolic of rural life but works towards the betterment of their village. These latest animation series bring in storytelling with loads of Masti, a hint of magic, and a dash of action. This series offers wholesome entertainment with relatable characters with a special focus on everyday stories.
Reliance Animation, a division of Reliance Entertainment, is one of the leading and fastest-growing animation studios in India and is dedicated to revive the culture of story-telling by characterizing animation in the world of fantasy. A company where exuberance and passion rule the roost, success is a way of life.
Shibasish Sarkar, Group CEO of Reliance Entertainment, said, "Reliance Animation is widening its horizons and engaging with kids in India and abroad.  It is wonderful to see the growth of the home grown IP's and with "Bhaiyyaji Balwan" we are proud to be associated with Disney Kids Network. Its the reflection of the effort, skill and passion of the leadership and talent who have set a new benchmark for animation in India. After signing this show with Disney channels in India, we feel proud to get associated with the leading global kids Network viz. Viacom, Disney, Warner Media, and Discovery."
Tejonidhi Bhandare, CEO, Reliance Animation said "We have been working for a while to develop shows which have a local look and feel. With the unique narrative of Bhaiyyaji Balwan, we hope to win the hearts of young audiences across the country. We are glad to associate with the  Disney team in India who have been at the forefront of bringing relatable and wonderful stories for Indian kids and families. I am sure the character and storytelling will be loved by the target audience and the show will be popular in no time."
So kids can now look forward to having their new favorite "Bhaiyyaji Balwan" on Disney Kids Network soon, along with the ongoing shows 'Little Singham' on Discovery Kids India, 'Golmaal Jr.' on Nickelodeon & 'Smaashhing Simmba' on Pogo TV.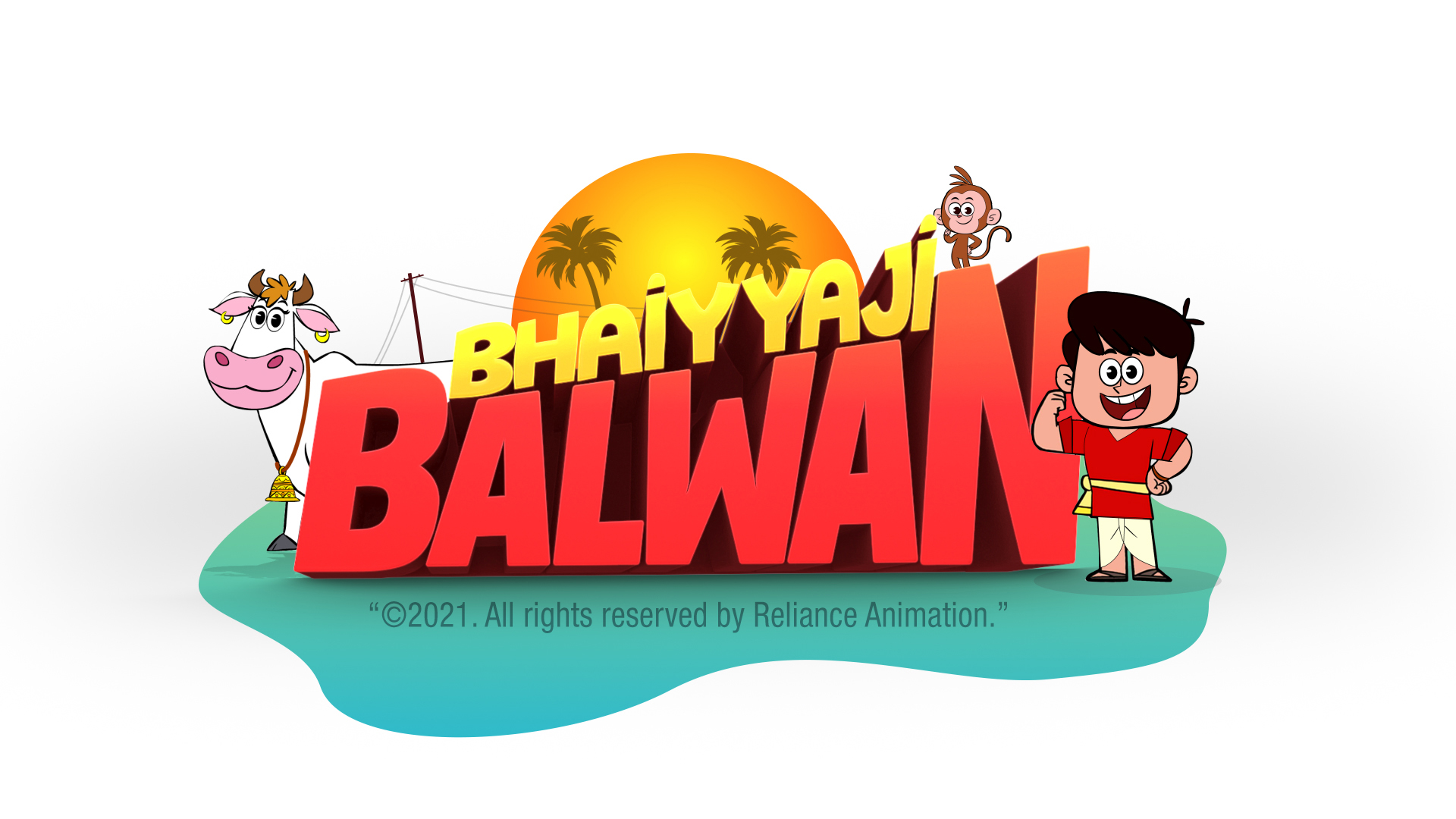 ***********
About Reliance Animation
One of the leading and fastest-growing animation studios in India, Reliance Animation, is dedicated to
reviving the culture of story-telling by characterizing animation in the world of fantasy. A company where exuberance and passion rules the roost, success is a way of life.
Reliance Animation's superior work is evident in the International recognitions and accolades it has collected over a very short period of time. 'Veneta Cucine', an Ad-Film done by the Reliance Animation team won the Best Animated Ad-Film of the year at FICCI Frames 2006. 'Little Krishna' another superior delivery from Reliance Animation, won the FICCI Best Indian Animated Content in 2007. 
Adding yet another feather to its cap, Reliance Animation produced the first animated short film with International acclaim, 'The Bad Egg', which won the prestigious Digicon International Award in Japan and Gold Medal at New York Festival in the year 2007. Little Krishna TV Series, Krishna our Kans Theatrical Film, Shaktimaan TV Series, BIG Bees Jr. Nursery Rhymes are some of its creations, and many more to come which are in the development stage.
Follow us on:   
Facebook: @RelianceAnimation-Official       
Twitter: @RelianceAni       
IG: @reliance_animation_official
About Reliance Entertainment
Reliance Entertainment is one of India's largest film and entertainment company. A pioneer in forging strategic alliances with the finest creative partners in domestic and international markets, the company is a leader in various segments of the Media and Entertainment industry including Films, Streaming, TV, Animation, Gaming, and Digital businesses. Reliance Entertainment has developed strong IPs, content creation capabilities as well as global marketing and distribution acumen to emerge as a highly respected and sought-after partner across its various businesses.
Internationally, Reliance Entertainment has partnered since 2009 with iconic film producer and director, Steven Spielberg, in the formation of DreamWorks Studios, and thereafter, Amblin Partners. This relationship has produced several successful films such as The Help, War Horse, Lincoln, The Hundred-Foot Journey, The Girl on the Train, A Dog's Purpose, Bridge of Spies, The Post, 2019 Golden Globes, and Oscar-winning film, Green Book & 2020 Academy Award nominee and Golden Globes winner 1917.
Follow us on:   
Facebook: @RelianceEntertainment          
Twitter: @RelianceEnt            
IG: @reliance.entertainment
For further information contact: 
Fatema Nagree              Fatema.Nagree@relianceada.com         +919867661126