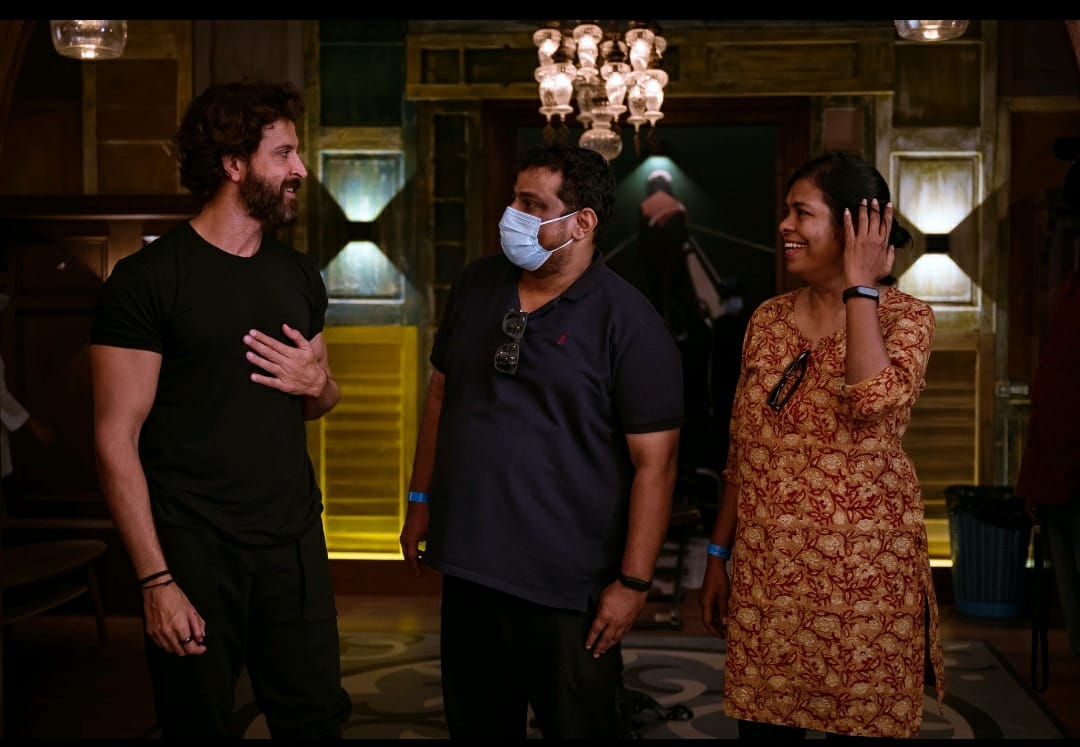 Hrithik Roshan and Saif Ali Khan starrer 'Vikram Vedha' is slated to release in  cinemas worldwide on September 30, 2022  
Mumbai, December 2, 2021 : Bhushan Kumar's T-Series and Reliance Entertainment in  association with Friday Filmworks &S. Sashikanth's YNOT Studios'action packed thriller,  Vikram Vedha has concluded its first filming schedule spanning 27 days in Abu Dhabi with  Hrithik Roshan.The second schedule has begun with Saif Ali Khan in Lucknow.  
The film stars Hrithik Roshan and Saif Ali Khan in lead roles, with Radhika Apte playing a  pivotal role. Pushkar & Gayatri, the original writers and directors, are helming the Hindi  remake too.  
Pushkar&Gayatri, Directors,say, "We are delighted to be working with Hrithik and Saif – two  great actors. With a superb team around us, we hope to deliver a film that will be intense  and exciting."  
A cult classic in its own right the film 'Vikram Vedha' is a neo-noir action thriller based on  the Indian folktale 'Vikram aur Betaal'. The film tells the story of a tough police officer who sets  out to track down and kill an equally tough gangster. The original Tamil blockbuster starred R.  Madhavan and Vijay Sethupathi in the lead roles.  
Bhushan Kumar, Chairman and Managing Director, T-Series, says, "VikramVedha promises  to be one of the most thrilling and entertaining films of the year. The announcement itself  has sparked a great deal of interest in the audience. We're ecstatic to reunite this dynamic  duo after two decades on the big screen. We cannot wait for VikramVedha to work its magic  in the theatre and become a box office hit." 
Sashikanth, Producer, says, "After having produced the original version in Tamil 4 years ago, we are excited to see how "Vikram Vedha" has been shaping up in Hindi with Hrithik & Saifpushing the boundaries and taking this story to a global audience."
Vikram Vedha is presented by Gulshan Kumar, T-Series Films and Reliance Entertainment in  association with Friday Filmworks and YNOT Studios Production.The film is directed by  Pushkar & Gayatri and produced by S. Sashikanth.Vikram Vedha will hit the big screens  globally on 30th September 2022. 
About Us: 
About Reliance Entertainment 
www.relianceentertainment.com 
Reliance Entertainment is one of India's largest film and entertainment company. A pioneer in  forging strategic alliances with the finest creative partners in domestic and international markets,  the company is a leader in various segments of the Media and Entertainment industry including  Films, Streaming, TV, Animation, Gaming, and Digital businesses. Reliance Entertainment has  developed strong IPs, content creation capabilities as well as global marketing and distribution  acumen to emerge as a highly respected and sought-after partner across its various businesses.  
Internationally, Reliance Entertainment has partnered since 2009 with iconic film producer and  director, Steven Spielberg, in the formation of DreamWorks Studios, and thereafter, Amblin  Partners. This relationship has produced several successful films such as The Help, War Horse,  Lincoln, The Hundred-Foot Journey, The Girl on the Train, A Dog's Purpose, Bridge of Spies,  The Post, 2019 Golden Globes, and Oscar-winning film, Green Book & 2020 Academy Award  nominee and Golden Globes winner 1917.  
Follow us on:  
Facebook: @RelianceEntertainment  
Twitter: @RelianceEnt  
IG: @reliance.entertainment  
For further information contact:  
Fatema Nagree Fatema.Nagree@relianceada.com +919867661126