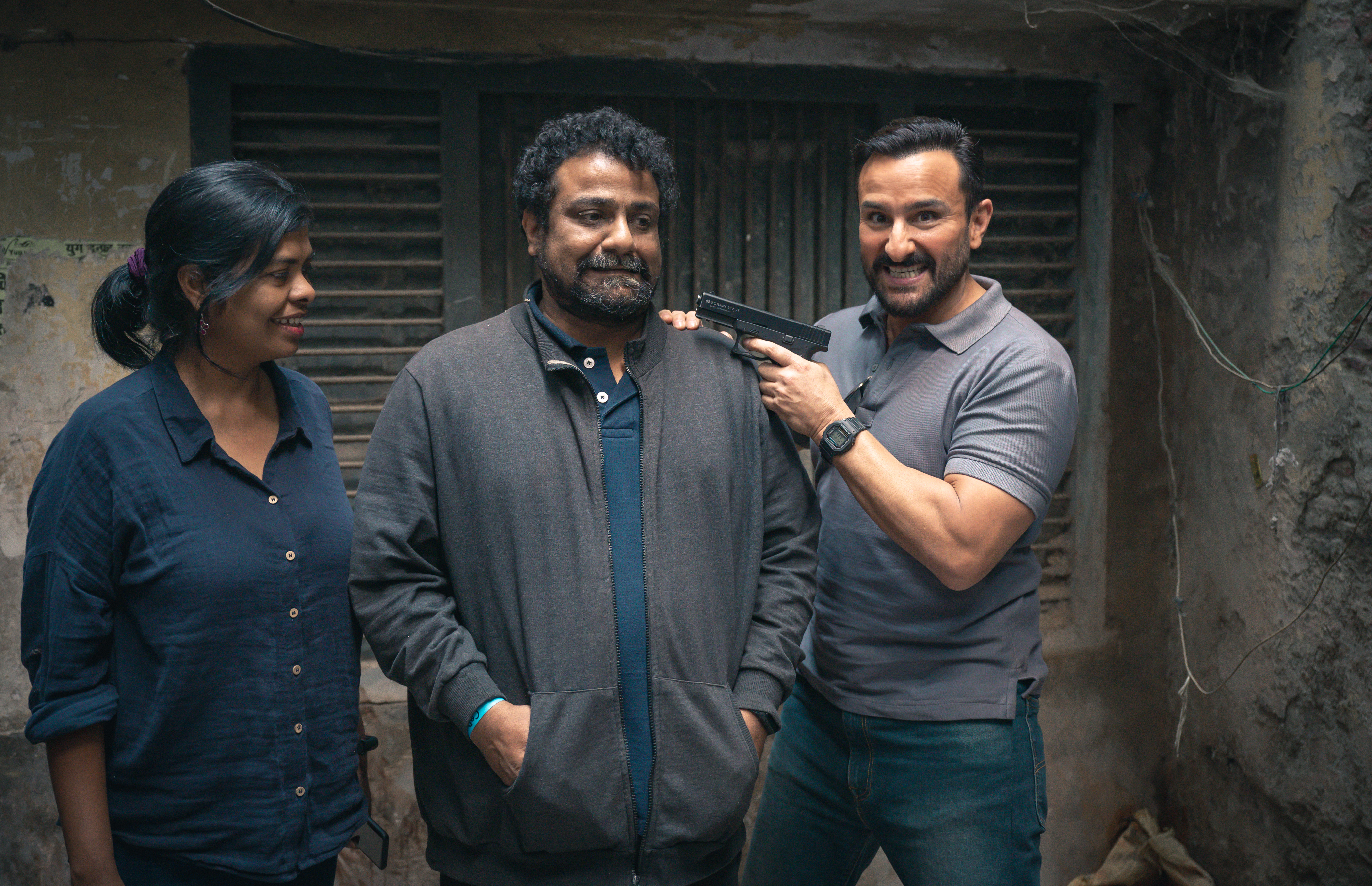 Mumbai, December 30, 2021: Bhushan Kumar's T-Series and Reliance Entertainment in association with Friday Filmworks & S. Sashikanth's  YNOT Studios' action packed thriller, Vikram Vedha has concluded its second filming schedule spanning 19 days in Lucknow with Saif Ali Khan. Saif Ali Khan shot adrenaline pumping action sequences himself. 
The film stars Hrithik Roshan and Saif Ali Khan in lead roles, with Radhika Apte in a crucial role. Pushkar & Gayatri, the original writers and directors, are donning the director's hats for the Hindi remake as well.
Bhushan Kumar, Chairman and Managing Director, T-Series, says, "The anticipation grows as the film shoot progresses. Hrithik and Saif on the big screen will be a sight to behold. This will undoubtedly be the most eagerly anticipated release of 2022."
Shibasish Sarkar, Producer, says, "As we wrap up the second schedule of Vikram Vedha we are happy that the film is proceeding as scheduled and in accordance with all government protocols. Each completed schedule is another significant milestone for the film. I'm really looking forward to the film getting into excellent shape as it proceeds and releasing it to viewers all over the world."
Vikram Vedha is presented by Gulshan Kumar, T-Series Films and Reliance Entertainment in association with Friday Filmworks and YNOT Studios Production. The film is directed by Pushkar & Gayatri and produced by S. Sashikanth and produced by Bhushan Kumar. Vikram Vedha will hit the big screens globally on 30th September 2022.
About Reliance Entertainment
Reliance Entertainment is one of India's largest film and entertainment company. A pioneer in forging strategic alliances with the finest creative partners in domestic and international markets, the company is a leader in various segments of the Media and Entertainment industry including Films, Streaming, TV, Animation, Gaming, and Digital businesses. Reliance Entertainment has developed strong IPs, content creation capabilities as well as global marketing and distribution acumen to emerge as a highly respected and sought-after partner across its various businesses.
Internationally, Reliance Entertainment has partnered since 2009 with iconic film producer and director, Steven Spielberg, in the formation of DreamWorks Studios, and thereafter, Amblin Partners. This relationship has produced several successful films such as The Help, War Horse, Lincoln, The Hundred-Foot Journey, The Girl on the Train, A Dog's Purpose, Bridge of Spies, The Post, 2019 Golden Globes, and Oscar-winning film, Green Book & 2020 Academy Award nominee and Golden Globes winner 1917.
Follow us on:   
Facebook: @RelianceEntertainment          
Twitter: @RelianceEnt            
IG: @reliance.entertainment
For further information contact: 
Fatema Nagree              Fatema.Nagree@relianceada.com         +919867661126