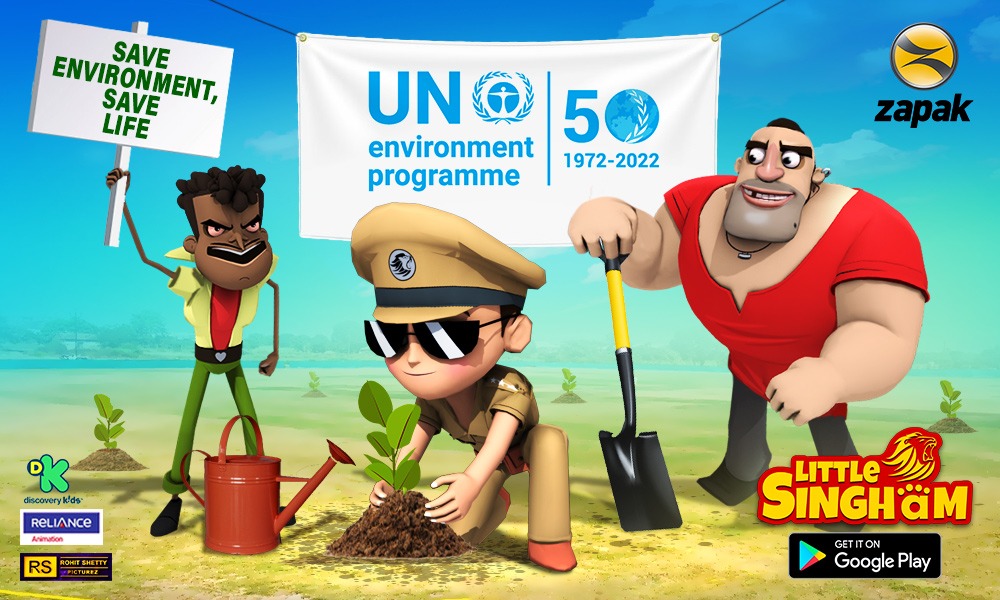 Reliance joins forces in support of UNEP's Tide Turners Programme to inspire youth
Mumbai June 22, 2022: In commemoration of the World Environment Day and the World Oceans  Day, Reliance Games have come up with a unique initiative to raise awareness regarding the  hazards of plastic among children and youth. In support of the United Nations Environment  Programme's (UNEP) TIDE TURNERS PLASTIC CHALLENGE, a global initiative that engages  youth to address the issue of plastic pollution threatening life in oceans, rivers, and on land,  Reliance Games will highlight the problems of plastic pollution in video games, a first for the  studio. 
Little Singham 2022, a runner game with over 50 million downloads is running a new campaign informing players about the adverse effects of plastic on the environment by integrating new  features where the players collect plastic bottles and win rewards. Discovery Kids' most loved  show, Little Singham has been winning hearts by emerging as one of the top Indian IPs in the  animation genre on television since 2018. In no time, the character extended its fun and frolic in  the gaming sphere and replicated the success by leading the charts on Play Store too. 
The 'Little Singham' game has also integrated the World Environment Day "ONLY ONE EARTH"  logo within the gameplay. 
The Tide Turners youth programme has been backed by the Scout and Girl Guide movement  worldwide, engaging some 500,000 youth in over 30 countries. 
Atul Bagai, who leads UNEP's office in Inda, said: "Awareness among the youth is critical to  responding to the triple planetary crisis of climate, biodiversity loss, and pollution, The gaming  industry, with its vast reach, can play a significant role to engage young players in a fun way to  reduce, reuse and recycle plastics". 
The collaboration is part of Playing for the Planet, launched in September 2019 at the UN Climate  Summit, a push by UNEP to support the game industry to raise awareness about pressing  environmental issuesReliance Games/Zapak is one of the founding members along with Sony,  Microsoft, Ubisoft, and Supercell.  
"Games have the ability to engage, inspire and captivate the imaginations of kids with these  initiatives," said Amit Khanduja, CEO Reliance Entertainment – Digital. "The Mobile Games  industry has to take the lead in the emerging markets to raise awareness among the next billion  gamers coming online to lead the way for climate change." 
Uttam Pal Singh – Head of Discovery Kids, Warner Bros. Discovery said, "At Discovery kids, we  believe we can create awareness and enthusiasm amongst kids about the environmental challenges  and the impact of plastics on climate change through our marquee property, Little Singham. An  inspiration to young children, Little Singham is brave, intelligent, responsible, and honest; he is an  agent of change, and there could not be a better messenger to spread this message to the kids. We  are proud to partner with Reliance Games for something that needs serious action and is also in  sync with the traits of our beloved character and the larger network."
About Reliance Games 
Reliance Games is India's leading Gaming Destination with more than 500 million game downloads.  Reliance Games and Zapak work closely with leading Entertainment companies such as WWE, Cartoon  Network, Paramount, Discovery Kids, etc. 
From famous cricket games like WWE Mayhem, World Robot Boxing, T20 Cricket, and Little Singham  Cricket to Blockbuster TV Series running games Little Singham, Little Krishna & many others, Zapak  Players from all over the world experience endless excitement, achieve amazing high scores, challenge  friends & compete in one of India's biggest games collections. 
Reliance Games and Zapak are the division of Reliance Entertainment Digital.  Follow us on: 

/RelianceGames   

 @RelianceGames 

/RelianceGamesOfficial
About Reliance Entertainment: 
Reliance Entertainment is one of India's leading film and entertainment company that is engaged in the creation and distribution of content across Films, Streaming, TV, Animation, Gaming, and Digital platforms. 
Internationally, Reliance Entertainment has partnered since 2009 with iconic film producer and director, Steven Spielberg, in the formation of DreamWorks Studios, and thereafter, Amblin Partners. 
This relationship has produced several successful which include among others, The Post, 2019 Golden Globes and Oscar winning film, Green Book & 2020 Academy Award nominee and Golden Globes winner 1917. 
Follow us on: 

/RelianceEntertainment   

@RelianceEnt   

/reliance.entertainment 
For further information contact:  
Fatema Nagree Fatema.Nagree@relianceada.com +919867661126